Property 2 from 15

Next property

Previous property

Back to the overview
Son Macia: Freistehendes Haus m.Garten, bezugsbereit! - Son Macia
Property ID: DH 510 VK
Type of house:
Detached house
Commission Rate:
Provision zahlt der Verkäufer
Kitchen:
Fitted kitchen, Pantry
Bathroom:
Shower, Window, Bidet
Suitable for disabled people:
yes
Surroundings:
Pharmacy, Bus, Shopping facilities, Quiet area, Residential area
Number of parking spaces:
1 x Outside parking space; 1 x Garage
Last renovation/ refurbishment:
2020
Quality of fittings:
Regular
Year of construction:
2000
Construction phase:
House complete
Type of heating system:
Wood
Property description:
Hübsches freistehendes Haus am Ortsrand von Son Macia mit Garage, komplett eingezäunt. Neue Einbauküche und Bad mit Fenstereinbau und neuer großer Duschplatte modernisiert. Es gibt einen schönen Eingangsbereich von wo aus die 4 Schlafzimmer , Bad sowie das Wohn-Eßzimmer und die Küche abgehen. Von hier gelangt man auf die überdachte Terrasse, einen Wirtschaftsraum mit offenem Kamin sowie auch zur Garage und in den Garten . Das Häuschen kann direkt bezogen werden - je nach Anspruch kann es modernisiert werden , evtl. ein Pelletofen eingebaut werden.
Furnishings:
Kamin in der Küche,neue Einbauküche, neue Geräte Span. TV, Tel. elektr. Boiler, Garage umzäuntes Grundstück. Einfachverglaste Fenster, welche aber sehr gepflegt sind. Persianas an allen Fenstern. Tel. liegt bereits. Stadtwasser, Strom von Gesa
Location:
Am Stadtrand ,Einkauf fussläufig!, Bushaltestelle im Ort
Miscellaneous:
Das Objekt hat Stromanschluss von der Gesa, Stadtwasser sowie jährliche Grundsteuer. Da das Haus Bestandsschutz (Rustico) erhält es keine Cedula,
Remarks:
Die von uns gemachten Informationen beruhen auf Angaben des Verkäufers bzw. der Verkäuferin. Für die Richtigkeit und Vollständigkeit der Angaben kann keine Gewähr bzw. Haftung übernommen werden. Ein Zwischenverkauf und Irrtümer sind vorbehalten.
General business conditions:
Wir weisen auf unsere Allgemeinen Geschäftsbedingungen hin. Durch weitere Inanspruchnahme unserer Leistungen erklären Sie die Kenntnis und Ihr Einverständnis.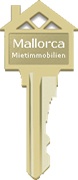 Mallorca-Mietimmobilien
Mobile phone:
0034 630 211 570

Back to the overview