Property 4 from 18

Next property

Previous property

Back to the overview
Son Prohenz:
Property ID: T 502 VK
Address:
07200 Son Prohenz
May be developed short-term:
yes
Development:
Divisor-closed
May be developed from:
Building land with no development plan
Recommended use:
Detached house,
Subject to commission:
yes
Remarks:
The information is based upon information of the owner of the respective property. We trust in the correctness, completeness and actuality of the information, however, we cannot take over the guarantee or liability because third parties have supplied it. This offering is subject to errors, omissions, and change of price or withdrawal without notice. Taxes, notary and register fees must be paid by purchaser, the commission by the seller as stipulated by Spanish regulations.
An intermediate sale and mistakes are reserved.
The commission for rental properties has to be paid by the tenant.
General business conditions:
We refer to our general trading conditions. By further recourse to of our achievements you explain the knowledge and your agreement.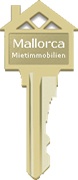 Mallorca-Mietimmobilien
Phone:
0034 971 55 37 10
Mobile phone:
0034 630 211 570

Back to the overview